We recently were asked to write an article for Which School on helping young people prepare for exam results. We thought it would also be useful to share it here as we had such good feedback about its fresh approach. Let's us know what you think in the comments and please share to those who will benefit who are receiving exam results soon.
Preparing a Young Person for Exam Results
Dear Younger Self

I am sitting here thinking about our life and how we got where we are now, all the twists, turns and bumps in the road to get to this happy place.

I am a parent of two children, in a long-term relationship doing a job I love; running a business helping to build children's confidence and resilience coupled with getting children more
access to nature learning well-being techniques; I feel all aspects of my life have led me to this point.

I wanted to check in and just tell you that it will all be ok, that no matter what you are feeling now or the challenges you face it will be ok and you have the resilience and tenacity to take on
anything.

There are points in your life where you might feel like you have failed, or you are not good enough. Those moments will not define you; they will give you the means to move forward,
stronger and more resilient. They will teach you skills you won't expect and lead you to become someone who is a leader, fights for others, is patient and has great empathy.

If right now you are staring down at your A-Level exam results, with the poor results, which you knew were coming, know this one thing – this day will not define who you are, better things will come; brighter days, happier days, days where you will feel truly valued, clever, and fulfilled.

You did not have the support you needed for success at this time, on top of being in a system that did not work for you and studying topics you did not enjoy – it was a recipe for disaster.
You will take charge of what happens next, you will grow and learn from the setbacks you face.

You will be a good daughter, sister, friend and colleague and you will go on to build an amazing life with your partner and through adversity create two incredible humans.

We are still a work in progress, we are still driving down the path managing the twists, turns and bumps in the road with our head held high.

I love you.
Miranda x
Thinking about what we would tell our younger self is a wonderful way to quantify what exam results mean; they don't define us.
Whatever the result (good or bad) if we can empower young people to take charge of their lives, set the destination of where they want to go, watch for bumps in the road, re-route where needed they will find a way.
Confidence and resilience are two key life skills that can set us up
for success whatever challenges we face in life.
Top tips for supporting young people getting exam results; whatever they might be.
Celebrate – Before the exam results take time out together as a family to celebrate getting to this point and whatever comes next.
Stay calm and confident – your young person will feed off your emotions.
Create a stable support system – move away from the drama that can be around at this time.
It's not useful to compare – and can even you can be unhelpful.
The words we use matter – instead of saying "Don't worry" try "You've got this", using the word worry tells our brain to worry.
Prepare for exams – Help you child or young person prepare for success and if you or they have not then be prepared for results you and your young person might not like, be realistic.
Empathise with your child – talk about when you have had challenges where things weren't as you thought but you found a way.
Talk about expectations – this can help set the scene for everyone; understand what they consider good to look like e.g you might be expecting a B when they know it's likely to be a C which they are happy with.
Give your young person space and time – they might need this to process the outcome – they might not want to talk about it or analyse it initially.
Listen – When your young person is ready be there to listen and support where needed, be open to the path they want to take.
Above all else – have fun…blow out the cobwebs, connect in nature, hug, bake cakes and just be.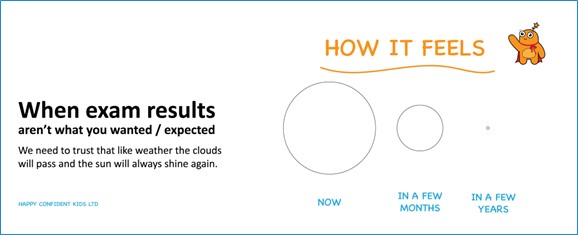 The results that your child or young person gets in their exams are pre-determined, once they sit them, at this point they can't change them, they are a steppingstone, and the steps they make now define what happens next.
If the results mean your young person can't get into the college or university, or on the career path they (or you) initial wanted, then support them to find alternative paths. If they want/need to resit exams help them to find the confidence for this and build inner trust that they can do it and they will find a way through.

If your child or young person's confidence or resilience is affected by exam results, Happy Confident Kids is here to help at any stage. Please contact us at hello@happyconfidentkids.com to find out about our 1-2-1 or group
coaching sessions.